Already at the age of 30, chef Antonio Colaianni was awarded 17 Gault Millau points and a Michelin star. Inspired by the Davidoff Escurio series, Head Chef of Gustav Restaurant takes us on a culinary journey aboard the Davidoff Ship.
Delight Magazine interviewed the chef on location.
delight: As a gourmand and a successful chef, you certainly have an appreciation for quality cigars. What's your take on the Davidoff Escurio line? What aromas and flavors did you discover?
Colaianni: I found the smaller formats of Escurio line to be creamier with a nice range of flavors. The larger sizes are more powerful and have more impact.
delight: Which format do you personally prefer?
Colaianni: I especially like the thick and long Escurio Gran Toro.

delight: How did the Brazilian inspired Escurio line influence the menu for the Davidoff Tour Gastronomique event that took place on the Davidoff Ship?
Colaianni: It was more of an interpretation of the Escurio tastes rather than a direct translation of specific cigar flavors. In other words, I selected tastes that are just as present and tangible on the palate as those emerging from Escurio cigars. Take the first course, for example: beef tartar with a nut butter cream, black Périgord truffles and mashed potatoes. This dish is both elegant and very present on the palate. The second course featuring black hake, a strong-flavored fish with a creamy taste, goes perfectly with a hearty bouillabaisse over mussels. This dish is reminiscent of the length and creaminess of an Escurio cigar and the subtle chili notes that touch the surface every once in a while.
delight: A sorbet was exclusively created for the event. Does it immediately take the connoisseur on a journey to the pulsating nights of Rio?
Colaianni: As the dessert is served right before the cigar, we decided to create a Brazilian-inspired pre-dessert especially for cigar aficionados. Pastry Chef Atilla Menyhart made an exclusive Caipirinha sorbet covered in chocolate to the shape of a cigar, which we presented in a cigar box with a real Escurio label. With the main dessert, we treated the guests to a taste sensation of chocolate, pineapple and chili. The bitter notes of dark chocolate, the freshness of pineapple and the sharpness of chili bear a striking resemblance to the Brazilian taste experience of the Davidoff Escurio cigars.
delight: What alcohol beverage would Gustav Restaurant recommend to Escurio cigar connoisseurs on a hot summer evening?
Colaianni: I love a glass of champagne with my cigar. On this topic, I am a real expert! It should be full-bodied champagne – preferably a Blanc de Noirs or rosé champagne. There is nothing better than the combination of a strong cigar and the sparkling freshness of champagne. This is a great way to enjoy every puff and end a summer evening in style.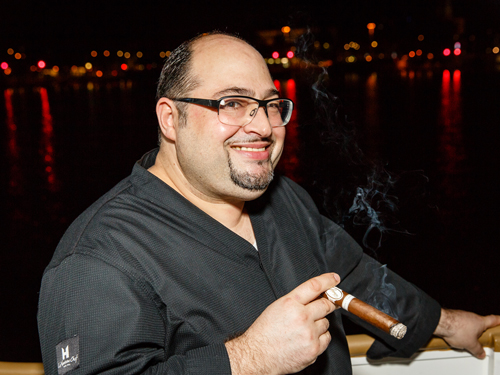 About Antonio
Antonio Colaianni became Chef de Cuisine at the age of 24.
At 30 he was awarded with 17 Gault Millau points and a Michelin star at Schloss Rapperswil. In 2009 he was elected GaultMillau CigarMan of the Year. Former Chef de Cuisine at Mesa Restaurant in Zurich, Antonio Colaianni is now Head of Gastronomy at Gustav Restaurant, Zurich.