With its new Limited Edition, Davidoff Damajagua, consisting of twenty spectacular humidors and cigars created exclusively for it, Davidoff Cigars strengthens its collaboration with artists and artisans from around the world.
Rose Saneuil, a French artist living in Paris and a marquetry specialist, has contributed through her technical virtuosity to the creation of artistic masterpieces. Davidoff Cigars met her in her Parisian workshop.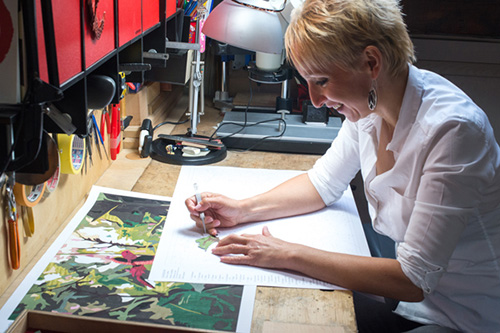 Did you always want to become an artist?
I've always done drawings, for as long as I can remember. My mother was a seamstress and, as a young child, I used to play around with the scraps of fabric. Looking back, I think that, starting in childhood, these two favourite pastimes paved my way towards marquetry. Very early on, I knew what I was passionate about, and my professional career quickly showed that drawing was not just a passing hobby.
What has your professional experience been and where did your passion for marquetry come from?
When I was young, I did a diploma in Plastic Arts and when I was thirty, I took a course in cabinet-making and marquetry at the Ecole Boulle in Paris. When I finished the course, I found a job with a luxury jewellery box maker. After a few months, a project came from Cartier, a panther that was to be fashioned in marquetry. Then, people soon realised there was an in-house marquetry specialist, which meant that more and more orders came in. Many famous international brands have submitted patterns I produced in marquetry. My technical skills progressed a lot during that time. I initially worked different woods and with mother-of-pearl, then I developed my own technique of working with other materials such as straw, shagreen, leathers, metal, parchment, gold leaf, etc. I have been independent for three years and am constantly looking out for new materials and projects. Thanks to the collaboration with Davidoff, I became interested in the tobacco leaf.
Describe the delicate balance between art and craft in marquetry.
I had different jobs before I became fascinated by marquetry and was able to make a living from it as an independent artist. Today, I think I was predestined to it by of my character. I am very meticulous and disciplined, at the same time as being drawn towards creation, which fills me with joy everyday. And these characteristics are essential for success. If I don't work within a tenth of a millimetre, the various components won't hold together. Marquetry is a skill that requires great precision. On the other hand, the pattern remains subjective, although it always addresses the emotions of those who look at it. But without this sensitivity and creativity, marquetry would be nothing more than craftsmanship.
Although I do also very much like craft skills and expertise and have in the past made many marquetry designs for famous luxury brands, the creative process is a very important element of my work. Each creation always reveals an aspect of my personality.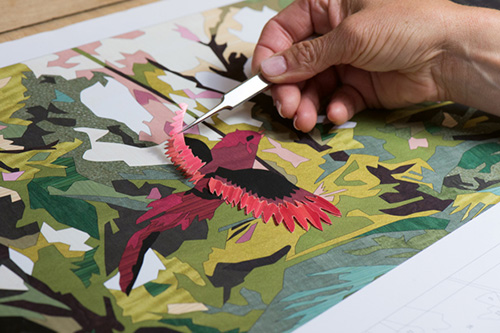 Were you familiar with Davidoff's world of cigars right from the start? What inspired you during the Damajagua project?
I had been familiar with Davidoff's humidors for a long time due to my professional work. Even so, I was pleasantly surprised when Davidoff Cigars contacted me in September 2015, offering me this new Damajagua project which immediately inspired me, not only because it represented a technical challenge for me, but also because it greatly encouraged me to use my own creativity. I wanted to visit the Davidoff Flagship Store in Basel, because I wanted to immerse myself in the world of cigars. Even though I don't smoke, I very much enjoy the smell of fresh cigars. And it was this smell that greeted me. The Davidoff team had adopted a theme for their huge project: this exceptional Limited Edition was to be an ode to Caribbean soil and the Damajagua tropical forest, and was to symbolise Davidoff's history in the Dominican Republic. And, in order to familiarise myself with this topic, I went to see the Douanier Rousseau exhibition in Paris. It's funny because, like me, he had never been to the Caribbean before. He had also been inspired by the ambiance of the tropical greenhouses at the Botanical Gardens in Paris. So we both followed the same path!
Can you describe the various stages of creation of the Damajagua work of art?
When I start a new project, I proceed in a very instinctive way. Firstly, I created a coloured drawing with a red bird soaring above the Damajagua jungle, literally carried by the light and contrasts of the tropical forest. Then, I chose the right materials, such as a painting palette, in colours that matched the drawing, some straw, wood, parchment, leather and tobacco leaf. I had to develop my own technique to work them and had to put together about 300 pieces which were cut out, assembled, then stuck onto the cigar case.
How long did you work on a humidor?
I worked for nearly 12 hours a day (even at the weekend!) and I devoted about two to three weeks to each humidor, from the first to the last piece of work.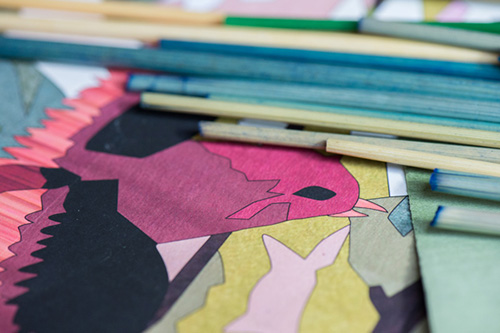 What inspires you in your work? To what extent do you identify with your pieces of work?
In principle, I am never a product of fashion or trends. Everything I make is singular and unique, like each one of these twenty exceptional humidors. It is the simple things in life that inspire me, for example walking in Paris, reflections running across the surface of water or the colours of nature in the autumn…
The Damajagua humidors themselves reflect my femininity and my passion through strong contrasts of green, between shadow and light, the explosion of colours, yellow, pink, red, pistachio green, of bright and positive colours. I experienced each piece of work as an adventure with a challenge at the heart of it, an adventure that also represents my path towards freedom and creativity.
Were you faced with any challenges when you were designing your marquetry work? If so, what were they?
The biggest challenge was to transform the delicate, fragile tobacco leaves into a robust material that could be worked with. To stabilise the wet sheets of tobacco, I had to stick them onto a flat surface then leave them to dry for a long time under a press, so that they were robust enough for me to be able to cut them. I was very eager to discover the effect that would be produced by the various materials used as a harmonious whole and what the humidor would look like when it was finished.
What advice would you offer to creators or artists at the start of their careers?
Every artist should follow their own path, be persevering, make the most of their opportunities and seize every chance to use their talents in order to achieve their goals.
How would you describe yourself?
I have a very positive attitude. I am independent and energetic. I get bored quickly when things are too easy. To relax I do yoga and go for walks in the countryside. I find mountains particularly restful because I need quietness to be able to unwind. However, as a welcome contrast to the calm of the countryside, I enjoy the museums, shows and theatres in Paris. I like people and I work with passion. I have always had the desire to share my work with others, but also to make myself known through them on an international level. Thanks to the Damajagua humidors project and Davidoff, all this has happened. A very big thank you to Davidoff!
_____